Dancing Cactus Toy 🌵
Funny Dancing Cactus Soft Toy Will Surely Make Anyone Laugh 🌵
This very funny dancing cactus soft toy plush is a cute dancing cactus in a pot! Perfect for your kid's or babies' room and to have a few laughs!It's very soft and with a comfortable fabric that I am sure you or your children will love.
PRODUCT FEATURES
Choose from over 3 different songs - Your Cactus can dance and groove to all three, no need to worry about the music becoming monotonous! If you think his dancing is good, just wait until you hear his singing voice.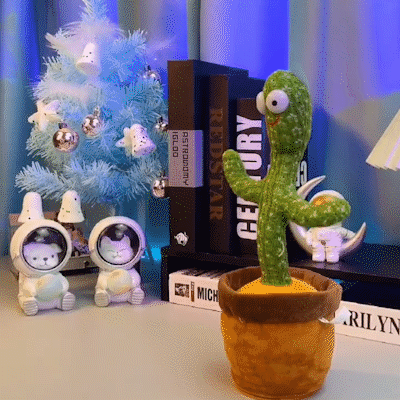 Bringing the Joy - The toy will dance for a few hours, bringing the joy of a lifetime to the child.
It's good for early education - The toys will dance with the rhythm, attract children attention.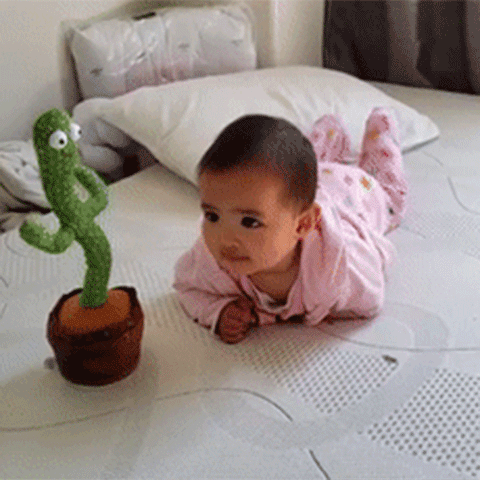 360 Degree Grooving - Dancing cactus can rotale 360 degrees whilst performing all sorts of funky moves, combine this his waving arms and you got a blockbuster dance floor in the comfort of your own home!
Ideal Gift! - The best birthday or holiday gifts for kids.
HOW TO USE
Simple, just insert a could Double-A batteries, press the on button, then sit back, relax and enjoy the singing and dancing! The batteries last for days so don't worry about them running out anytime soon!
SPECIFICATIONS
Material: Plush
Size: length: about 32cm/12.60inch
Battery model And Quantity: LR6 SIZE AA 1.5V*3 Alkaline battery
Note: If you buy this, don't water it!
PACKAGE INCLUDES
LIMITED STOCK - So be sure to hurry!